Several of Corban Iberians' PREs have relatives (brothers/sisters/progeny) who are currently competing successfully, or have realised significant achievements in the recent past. Others are owned by, and/or are in training with, professional riders overseas.

Achievements of Relations of Corban Iberians' horses include:

PDC Alfonso - PRE son of Gotico Park Escamillo
Ridden to Medium level by Professional FEI Rider in Australia


State Champion Ridden Andalusian 2011 & 2010
Champion Official Preliminary, Summer Dressage Series 2010
Dressage High Point Score at all levels, State Championships 2010

Owned by Morag Duley of Equus Lodge Stud

Gotico Park Amillo - Part bred son of Gotico Park Escamillo
7th place, Young Horse Qualifier 6yrs, Sydney CDI 3*, 2011
72.8%, 7th place, Young Horse Championship 4yrs, Sydney CDI 3*, 2009
Idolo Americano - brother to Carmen HGF (mare line)
Owned & bred by reknowned US PRE stud Hampton Green Farms (HGF)


Champion American Bred Stallion, & 2nd place overall Stallion, Devon Breed Show, US, 2007

Training for U25 Grand Prix dressage competition with EDAP rider Rachel Chowanec

Icono HGF - brother to Carmen HGF (mare line)

Owned by Olympic Gold Medallist, Martin Schaudt; Bred by HGF
82% 1st place, FEI 5 yr old Young Horse Championships, Stuttgart, Germany 2011
Placed 1st or 2nd 3 times in FEI 5yr old Young Horse competitions against former German Champions

Carina HGF - sister to Carmen HGF (sire line)
Owned by professional rider Cindy Ramirez-Smith in the US; Bred by HGF


Currently Eventing in the US - USEF Gold Medal Award Novice 2013

USDF Reserve Champion 1st level USPRE All Breeds Award 2013

Open High Point Combined Training Winner IALHA 2013

Other Relations Owned by Professional riders

Santander HGF - brother to Bibiana HGF (mare line) & Corban Distinguido (sire line)

Owned & trained by US professional rider Valerie Noblet; Bred by HGF
Recent owner& trainer Nicholas Fyffe - current Australian National Futures Squad member, former Australian Dressage Team member & Tri Nations Cup winner



Awards achieved by Gotico Park Escamillo's Progeny
See Escamillo's profile for more information on his progenys' successes, here.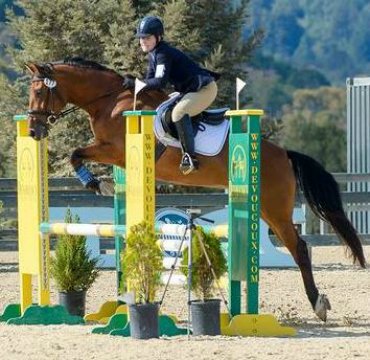 Carina HGF & Cindy Ramirez-Smith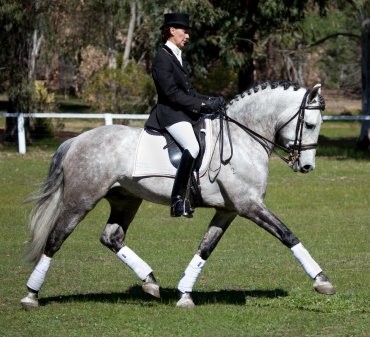 PDC Alfonso

Photo courtesy of Morag Duley, Equus Lodge Stud

Idolo Americano & Rachel Chowanec